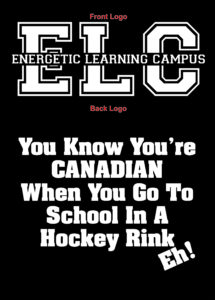 Is it a different curriculum at the ELC?
No, all Grade 10 students are required to take the same 6 courses plus two electives.  The required courses are PE 10, English 10, Math 10, Science 10, Socials 10, and Connect Ed.  The curriculum for these Grade 10 classes is mandated and exactly the same regardless of school.  At the ELC, students also take a Digital Media 11 class, which gives them an extra 4 credits and fulfills the need for a fine arts and applied skill 11, thus enabling them to have more choices of courses in Grade 11.
The ELC also has a class called Project Based Learning.  The goals of PBL are to teach academic content, knowledge and skills, develop deeper understanding and build 21st century success skills such as critical thinking, problem solving, communication, collaboration and creativity/innovation.  Five to six times a year student's will be assigned a PBL project.   We have the Mask Presentation, our Community Project, have had a Myth-busters project, a design project, etc.  As the student will be using skills in all core subjects, their PBL mark is divided evenly among the core courses.
With the exception of electives, which are by semester, courses at the ELC are linear, which means they are all year long.  For example, a student would have math 3 times a week from September to June.  The benefits of this system are more time for digesting and understanding of material and longer time frames to create meaningful projects.  Students also have more time to study the material if they are having difficulties and more time to access help.
My child is in French Immersion can they take that at the ELC?
Unfortunately, no.  If your child would like to continue with French Immersion they will need to attend the Main Campus.  We only offer French 10 as an elective.
I've heard the ELC is only for athletes…
Nope!  However, we are incredibly fortunate to go to school in an amazing facility, the Pomeroy Sports Center,  that has two ice rinks, boasts a walking track, and has an 'only one in North America speed skating oval' plus a workout gym, a dance studio and basketball.  As well, we have access to the Soccer Pitch (or Fieldhouse) for activities AND we have an amazing hockey program, so it's easy to understand why some people think that!
We also start off our day with DPA (Daily Physical Activity). This is how students receive their PE 10 mark, as all students are required to have PE 10 to graduate.   Students get to pick an activity, and can change weekly if they choose.  These activities range from the walking track, skating, working out, basketball, badminton, "Just Dance", volleyball, Fieldhouse activities (such as dodgeball, minor games etc) swimming, figure skating, yoga, and more!
DPA is wonderful and students say they love it! It's a great way to start the day, but it also works because students choose their activity depending on what level of fitness they are comfortable with or what they want to try.  This works well for both athletic AND non-athletic students, but those who consider themselves 'not athletic' they find it is a great and valuable way to receive their PE 10 mark.
I've heard the ELC is only for high academic learners / I've heard the ELC is only for struggling learners
The ELC has been proven to work extremely well with ALL types of learners.  Those who are academic learners push themselves even harder and reach for more excellence. They find a deeper love for life long learning and have gone on to excel in their academic path and career of their choice.  We notice that when our students go on to NPSS they continue to be leaders and to achieve high standards.  We have had students who are struggling learners but with year long classes, Educational Assistance for all students, Learning Assistant teachers and an Indigenous Youth Care worker we have a well rounded support team to assist students who are struggling.
Does the ELC have any student support?
You bet!  At the ELC we have a school counsellor, a learning assistance teacher, ELL support, an Indigenous Youth Care worker, and educational assistants.  We notice that because our school is a little smaller, students usually readily accept help and know how to access it.  We have quiet spaces for those who need it, and because we get to know our students so well we are able to know if a student is struggling and quickly provide assistance.  Because of our community based structure, the teacher is able to establish a strong relationship with the students and will understand their student's individual needs.  The student's community teacher is also the liaison between home and school, so if the parent has any questions or concerns, the community teacher is always available.
My son/daughter plays school sports and we would like them to play on the NPSS team.
Perfect!  We are a campus of NPSS, which means our students and Main Campus students are the same, and have the same opportunities to play on sports teams.  After school there is a bus that goes from the ELC to Main Campus, which students are able to utilize for team practice.
My child is interested in the trades, can he do that at the ELC?
All Grade 10 students take all the same courses.  It is when a student reaches grade 11 and 12 that they are able to diversify.  Electives are the only variable and a student can only take 2 electives in Grade 10, and has the opportunity to take more in Grade 11.   Any opportunities that happen to the Grade 10 NPSS campus students, the ELC students are privy to as well.  However, there is planning that happens in Grade 10 and all ELC students and parents have access to that information and to sign up for future programs.